went to DSH this morning.... My darling debab is 7 kg...66 cm tall.... Adief had his 3d dose of pneumococcal, 3rd dose of Hepatitis B, 3rd dose of triple antigen and his 2nd rotavirus vaccination.

Dato' Azizi: kenape pandang atuk mcm tue....?
He stared Dato' Azizi like "bayar hutang ko" hahhaha.
Dato' Azizi: ok...awak pegang kaki dia dengan tangan dia eh....
Me: Dato'...nie nanti dia start solid foods kan.... ade ape2 advice ke?
Dato' Azizi: ok...mai saya ajar mcm mane nak bg dia makan...bla bla bla.. ok...? nie nanti....cucuk lagi mase dia sethn pulak....tapi dia 9 mth nanti...bawakla utk routine check up..... ingat? jangan bagi dia ikan bilis. pasai apa?
Me: (aiseyyyhhhhhh mcm ketua pengawas! soal2 pulak...) sbb x bersih...jemur atas lantai...anjing pijak....bla bla bla...
Dato' Azizi: bagus.....ingat tue. bagi dia salmon...cod...ikan kurau....jgn duk bagi dia ikan kembung, sardine, keli, sembilang tue. x payah bg dia heinz, gerber ke ape sume tue. bg bubur nasi! minggu pertama tue...bg nasik sahaje....xyah taruk ikan ke ape sume. bg dia biase dulu. pastue baru boleh tambah2. ha lagi satu...jgn bagi dia honey. tunggu besar sket baru boleh. kalo sayur...bagila broccoli ka...carrot ka..avocado..boleh? (kat rumah saye ade pokok avocado Dato' hehhehe) nanti saye bagi awak satu website nie utk reference awak. (bebelan utk setgh jam...kebapaan la u nie! )

Latest pics of Adief...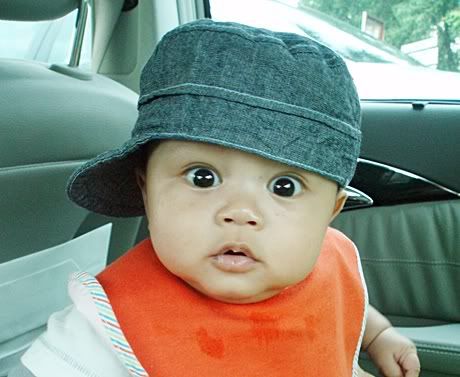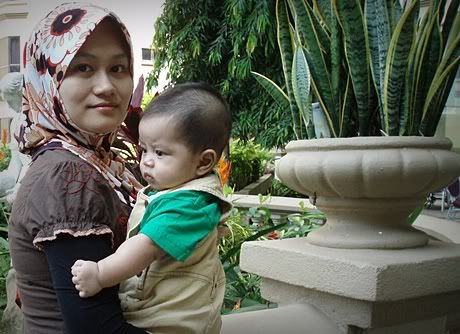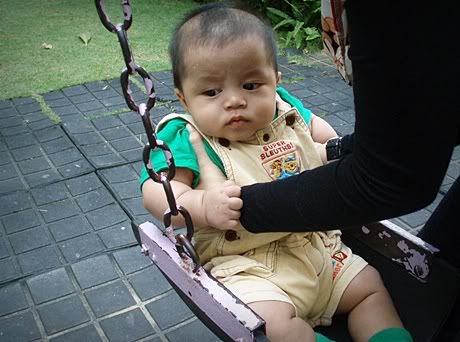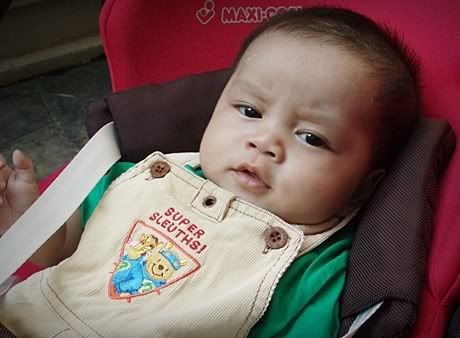 -ADIE-