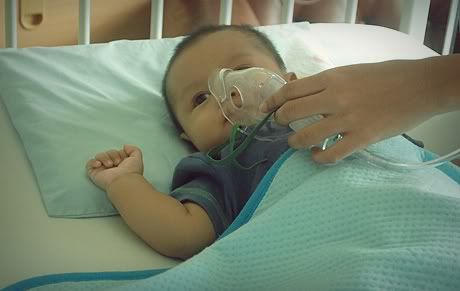 nebulizer

His flu became worse after abang's wedding and his cukur jambul. I was really worried especially when I always heard him wheezing although he was really I mean REALLY active. I called Dsh and made an appointment with Dato' Azizi. Off we went to the hospital. Checked2....Dato' asked his assistant to give Adief nebulization. Pastue checked semule... and confirmed! Adief kene acute brochiolitis. sume gare2 flu and batuk2 yg non stop pastue org ramai duk ciom2 dia angkat dia sume. cane la nak baik flu tue!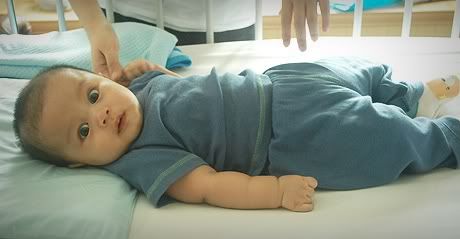 kenela masuk ward.... I asked for a single room.... tanak share2 because he is still a baby...sensitive lagi.....tapi full house la pulak....so we went home and waited for the hospital to call us bitau bilik dah ready lom. It was almost 4..but no phone calls came in. I called the hospital and they said there were still no single rooms available. Kalo ade pon...2 bedded. Then I said to the lady that no matter what I still want a single room...any type. Then she said they have suites available for Adief. I said ok... I want that room. So pegila kitorang ke Dsh and registered at the A&E sbb dah kul 5 lebey.... Naik 4th floor and entered the VIP suite 420. Really comfortable...got pantry...living room...dining table..television and toilet.....xdela serabut pale otak yg tgh duk risau nie.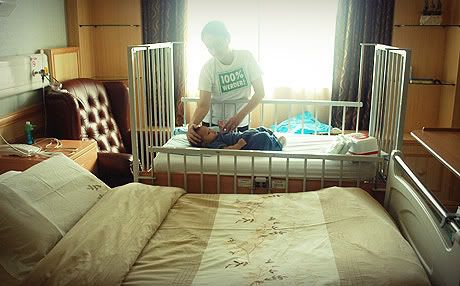 with mommy

Saje tak bitau sape2 even sedare mare because I dont want any visitors. well... i did tell Hani about it tapi Hani pon dah paham sgt mulut and perangai Adiyanti nie... I simply said to her I dont want any visitors. Kalo setgh org dah kecik ati dah...but that's me. If I said no....no la maknenye....especially mende2 yg berkatian dgn org2 penting dlm idop nie. I dont know and usually i dont really care about jage2 hati org nie kalo hal2 penting. So.....i'm sorry for that. The nurse brought in a baby cot for Adief...so Mommy leh tido kat katil tue.... and daddy? daddy leh buat keje kat living room nye.... Adief had to use the nebulizer every 4 hours.....1 thing about Adief...he is very good in meluahkan phlegm nye.... senang keje bak kate Dato' Azizi. but when it comes to taking medicines....berperanglah jugak. hahahhahhaha. and yes...he likes the nebulizer hehhehe.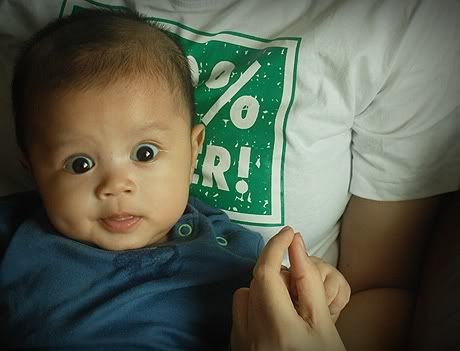 Adief nie famous kat ward....nurses suke dukung dia bawak dia round2 satu floor tue. AND! he said 'HI' to everyone! sampaikan org depan cardiac nye tpt yg muke masing2 tgh sedih mcm org berkabung tue pon dia nak tegur. terpaksela org senyum kat dia. hahahhahah.

Khamis discharged.... but I have to use the nebulizer thingy on him at home. aduhhhh banyaknye ubat.....I was a bit serabut at first...x confident sume....I wish Kerol Laling ade :(.....every 4 hours kenela gune nebulizer.....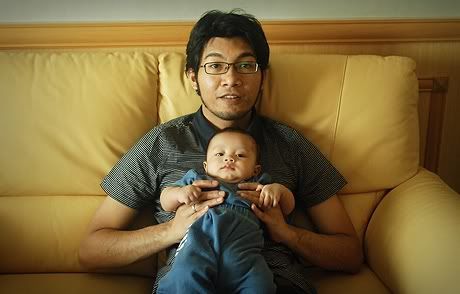 with daddy in the living room

hari dah discharged tue... Adief tetibe panas je badan! oowww mannnnnn! He cried from 2 p.m. non stop until maghrib. I called Dato' Azizi's hp and told him about Adief. He asked me to bring Adief to the A&E. dia kate kalo demam....stay la kat ward...kalo tak....xyah.... and alhamdulillah Adief was fine.....

yesterday morning was Adief's first time watching his atuk on t.v and he was like eh atukkkkkk!



Selamat Pagi Malaysia

yes i know....dah skipped 2 entries about abang's wedding and Adief's cukur jambul. both ceremonies were beautifully done anyway.... tunggu Adi Nang siap gambar2 baru buat entry nye.....okla....It's time to bf Adief....daaaaaaaaaaaaaaaa!



pagi sebelom admitted... jumpe Dato' Azizi untuk cek2

p/s: thanks Kerol Laling for the lovely card. He gave me a thank you card before he left the hospital nak gi airport. Mama jumpe atas meja kat living room tue. "THANK YOU FOR BEING A GOOD MOMMY TO ADIEF SAYANG"....and thanks to you too abg for being a good husband and daddy.