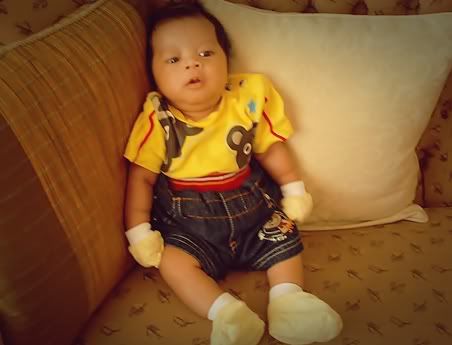 -he is now almost 5kg (okla tue utk budak yg lahir 2kg plus)
-he knows how to respond when we agah agah him...senyum jekla..hehe
-lost all the excess weight in less than 2 months....still got here and there yg perlu di'rata'kan.....
-he knows how to go to the toilet...exaggerate la sgt kan..
-i love clipping his nails, cleaning his ears, nose...
-no 'red light' since pregnant
-exclusively breastfed makes him tombam now bak kate auntie hani and healthy..alhamdulillah...


-still take the pramilet, caltrate and neurogain...
-baby talk nightly (around 2 a.m-3 a.m)....i love listening to him talking *grin*
-still pumping... missy b***ies show no signs of 'tutup kilang'....production increased
-no painful engorgement...Adief knows his duty...good job boy!
-midnight owl
-got time to visit the nail parlour, micheal n guy and Leonard Drake to 'repair' meself. hihihi.
-Funny to see his reaction bile dtg dekat dia bile tido. bukak mata sebelah, pastue cepat2 tutup. mcm la mommy x nampak!
-he loves to sleep on my lap rather on his bouncer ka...crib ka...tilam ka... aiyoooo xleh la camtue sayang....
-April is coming...but Kerol Laling is not here :( to celebrate my birthday. Last year he gave A***** handbag. this year xde la ek? owww man! xpe xpe.... good thing is Adief got a present from Daddy's Airbus colleagues.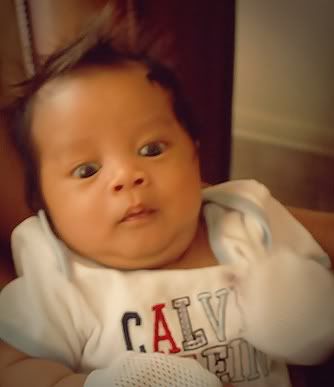 -ADIE-