"Happy 1 week old Adief sayang...."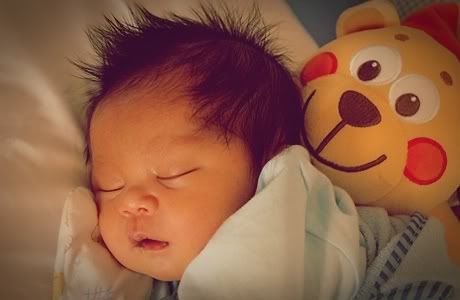 Facts about my little monster:

-he likes to sleep...
-loves stretching his body....tersedu2 sket....
-umbilical cord dropped at day 5
-laughing alone at nights in his crib...x nanges2 kaco his parents....
-loves to latch on to moi ***** for milk. sejam 4x....ouch ouch.

Confinement and myself so far:

-porridge and sup haruan everyday without halia, serai, kunyit etc.
-panasnyeeeeeeeeeeee....berbahang jek rase...
-mandi awal pagi...jage badan konon2 org kate....dont know how to link that ngan science. hahahah.
-i've lost 10kg in a week.

I'm so happy to wake up every morning to see 2 handsome heroes by my side.....Yan sayang abg...mommy sayang Adief!