Monday 6th April 2009

Adief had his appointment with Dr. Azizi for his 2nd dose of triple antigen, pneumococcal vaccine and rotavirus vaccine. My darling is now 4.9kg compared to last month 3.5kg, 60cm tinggi...last month 53cm.... During the procedure he cried sgtlah kuat! hahahhaha. kiri kanan peha kene cucuk. Everybody looked at me and smiled when I stepped out. hahahahha. buat malu mommy jek!

Met kak aina (akak dorm mase kat mozac) or should i call you kak dr. aina? hahhahahha. she was with her husband and their baby who was born on 5th February 2009. muda 3 days dr Adief. It was their first appointment with Dr. Azizi sbb paed baby tue kat Prince Court Medical Centre sebenonye since she was born there. tapi tukar DSH sbb kak aina nak mintak mak dia jagekan bile dia pegi keje....so dekat sket.

Wednesday 8th April 2009

Today I had my appointment with Dr. Noraini...the ophthalmologist. She said that several nerves are damaged due to the concussion on my brain. But she didnt recommend me any procedure...katenye mude agik...baik xyah....but it takes time la..... tapi dia kate...I can drive! yayyyyy!!!

After that... went to see Dr. Maziah lak to do the pap smear thingy and the contraceptive thingy... I hate pap smear! x saket...but very the uncomfortable la :(
The implanon procedure took less than 2 minutes. it was painless...tapi agak ngeri la tgk procedure nye...naseb dah bius! The result of the pap smear will be sent to me via sms...

Alahai.....merengek pulak si debab nie.... xleh tgk mommy ngadap laptop! ok...gtg....enjoy these pics ya!



obat-obatan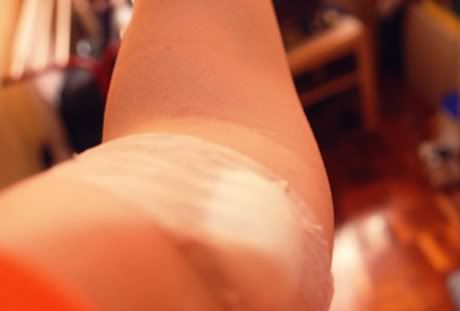 the implanon is inserted here..my upper left arm...angkat lengan baju nampakla ade mende timbul mcm mancis dlm lengan tue....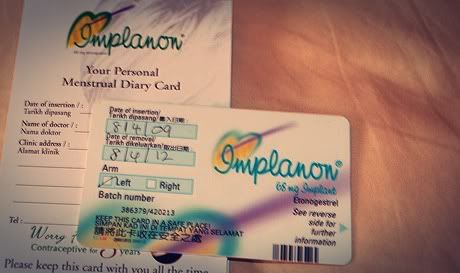 just like an i/c...should be with you 24/7 untuk mengelakkan salah paham....(tatau nak explain)

-ADIE-