I love to bf my baby. I feel so close to him physically (obviously) and I always feel like i've known this little monster for a long time.He'd kiss all over me whenever I carry him or lay down beside him asking me to bf him. I feel really appreciated....awwwwww

There are times I need to express the milk just in case tertido ke, mandi ke ape ke. I always express the milk 5 minutes only due to I AM a very lazy person hahhahahha. with the 5 minutes session= 2 1/2 oz milk.... which is enough for him untuk sekali feeding. Adief eats/drinks a little but he is a frequent 'peminta susu' hahhahahaha. tapi....syaratnye... NEVER keep the milk in the refrigerator! panaskanla mcm mane pon pakaila warmer ke, rendam dlm air panas ke....he would reject it. he'll drink it kalo terpakse jek. dont know why though it is normal to keep the milk in the fridge/freezer nak nak untuk working moms..... I think i need to train him on this. kalo tak cane nak keje? I called the midwife and she said, that is because the baby knows that dia leh dpt fresh punye hahhahahahha. He knows that I am still in the house. Dia xkan reject kalo yg simpan ikot room temperature jek. Need to train him more. Maybe I should go out ka...apa ka...

As he is a frequent peminta susu....the cream that Kerol Laling bought for me to heal the ouch ouch x sempat nak berkesan. hahhahahahha. Alhamdulillah... I can cope with the bf situation. Not a severe ouch ouch anymore. hahahhahahha.

One more thing.. he thinks I am his pacifier. Asal nak tido jek, he needs missy B**bies. x boleh la gini slalu sayang.... mommy needs to do a lot of things....I really dont have an idea how to train him on this. Kalo x bg, x tido2. bagi REAL pacifier lak...x mau..... Mama even bought one specially for newborns RM** satu lak tue sbb kesian tgk mommy. hahahhahah. Mommy dulu seringgit jek satu. He rejected it with yucky expressions. Manja anak mommy nie!

I really need Kerol Laling around :(.... At least leh train same2. Mama said.... anak laki nie, kalo dgn mak, dia ngade sket, ngan bapak dia leh nak ikot ckp buat kwn sume.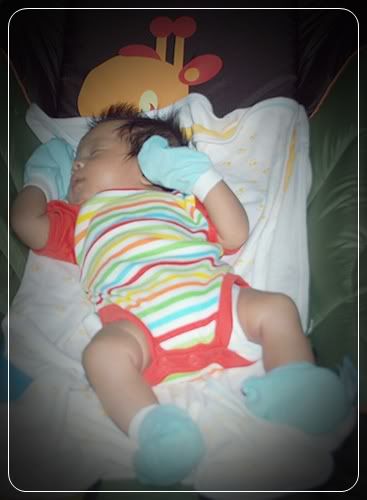 kekenyangan...the most 'sopan' position on his rocking chair/bouncer on the bed